2 non-commissioned officers recognized for the excellence of their leadership in education | Item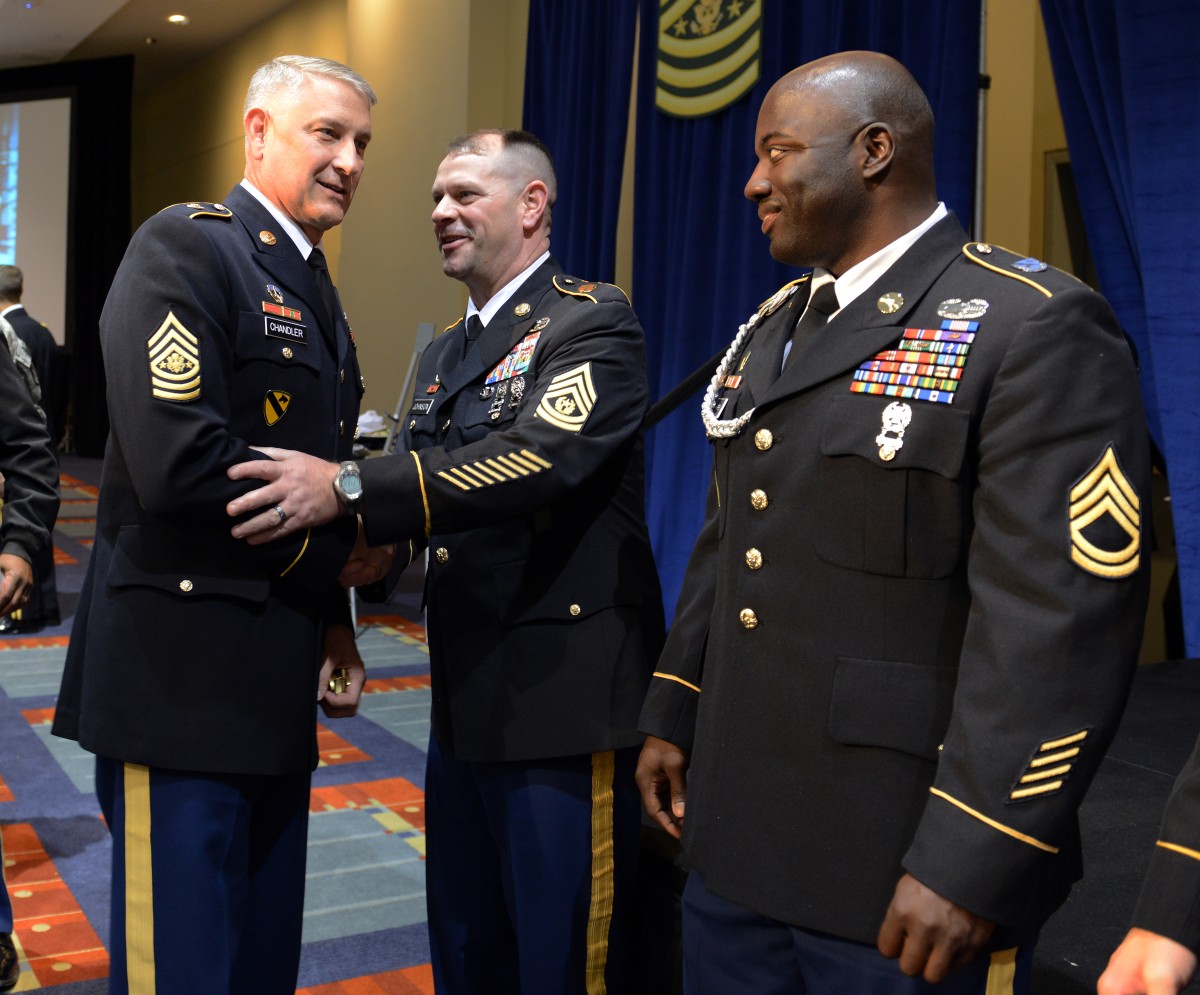 WASHINGTON (Army News Service, Oct. 25, 2013) — Two NCOs have been named recipients of the Larry Strickland Educational Leadership Award for their excellence in educational leadership and commitment to soldier development.
Commanding Sgt. Maj. Ronald Johnson of Joint Base Lewis-McChord, Washington, and Sgt. 1st Class Rodney Harris of Fort McCoy, Wis., said they were honored and surprised by the recognition.
The award is named for Sgt. Major Larry Strickland, who served in the military for 30 years. He was the Sergeant Major of the Army Deputy Chief of Staff for Personnel and was killed on September 11, 2001 in the terrorist attack at the Pentagon.
The Association of the United States Army presents the award annually.
Johnson and Harris were invited, along with the winners of other Army awards, to the Sergeant Major of the Army Recognition Luncheon, Oct. 21, at the Association of the United States Army Annual Meeting and Exposition, at Washington, D.C.
At lunch, the Vice Chief of Staff of the Army, Gen. John F. Campbell and Sgt. Army Maj. Raymond F. Chandler III recognized noncommissioned officers' contributions to the force.
Those recognized at the luncheon, Chandler said, demonstrated the best of noncommissioned officers, known as non-commissioned officers, and soldiers.
"It's excellence in what they do, their commitment to their profession, their commitment, their character and their confidence," Chandler said.
JOINT BASE LEWIS-McCHORD PARTNER WITH THE UNION FOR VOCATIONAL TRAINING
Johnson is working on a partnership between the Army Continuing Education System and the United Association in its "Veterans in Piping" apprenticeship program.
Active duty soldiers participate in the apprenticeship program for free, he said, to learn valuable skills that will qualify them for civilian jobs in areas such as plumbing, welding, pipefitting, heating and heating. air conditioner.
"We were the first Army installation to pilot this apprenticeship program with active duty soldiers," Johnson said.
In these tough fiscal times, soldiers who are about to leave the military often worry about finding employment after service, Johnson said. The program provides soldiers with the skills needed to succeed in the civilian world.
"Over the past 10 months, we've placed nearly 80 soldiers in the apprenticeship program. They've left active duty and gone straight into high-skilled, high-paying work with great benefits," Johnson said.
It's a win-win program no matter how you look at it, he said.
Not only does this help soldiers and their families, but it reduces the amount of unemployment benefits the Department of Defense may have to pay, he said.
It also provides employers with the best employees because soldiers are disciplined and hardworking, Johnson said. It's also a great recruiting tool, as it shows that the Army takes care of its people.
"As we step back, we must take care of our soldiers and our families," he said. "It's all around just the right thing to do."
NCO goes the extra mile to educate soldiers
Harris said he took advantage of every educational opportunity available to him as a member of the military and encouraged all soldiers to do the same.
"You always have to have a fallback plan no matter what," he said.
"Knowledge is the foundation of everything we do, with your work, interactions with people," Harris said. "It doesn't just help you in your job, it helps you later in life."
Harris, who entered the military with a bachelor's degree, earned his master's degree and a doctorate in philosophy while in the military.
He said he uses his own story as an example to encourage soldiers to really focus on their own plan and chart a course that will help them progress in the military and when they leave the service.
"It helps them get promoted," said Harris, who also volunteers as a tutor for high school students. "It shows, when their leaders look at them, that they have the initiative and the drive to excel and exceed the norm."
Harris served as a proctor for soldiers deployed or in the field, allowing these soldiers to have continuity in their courses and complete their courses while on assignment.
In addition to college courses, the military offers free online learning with thousands of courses in information technology, business, leadership and personal development, he said.
Harris said soldiers told him they had no idea the military offered so much in free education.
"They're like, 'I'm glad you pushed this,'" he said. "I've also made it a block in their board and I'm making sure they stay on track."
ARMY SERGEANT MAJOR RECOGNITION LUNCH
Over 350 people attended the luncheon which paid tribute to the exceptional leadership of non-commissioned officers.
The recognized non-commissioned officers were:
— Sergeant. 1st Class Krystal Jarret, Army Recruiter of the Year
— Sergeant. 1st Class Mariela Richardson, Army Reserve Recruiter of the Year
— Sergeant. 1st Class Joshua Mannel, Army National Guard Recruiter of the Year
— Sergeant. 1st Class David Stover, Army Drill Sergeant of the Year
— Sergeant. 1st Class Ryan McCaffrey, Army Reserve Drill Sergeant of the Year
— Sergeant. 1st Class Rodney Harris, Strickland Award winner
— Commander Sergeant. Major Ronald Johnson, winner of the Strickland Prize
— Retired Sergeant. Major Andrew McFowler, winner of the Bainbridge Prize
Related links:
sergeant. Major of the Army Raymond F. Chandler III
Army.mil: Human Interest News
Army.mil: Professional Development Toolkit
Association of the United States Army Larry Strickland Award
sergeant. Army Maj. Raymond F. Chandler III on Facebook
Joint Base Lewis-McChord Army Continuing Education System
sergeant. Army Maj. Raymond F. Chandler III on Twitter
United Association Piping Veterans Program