'Be the Change:' María De Jesús G'11 on Educational Leadership, Making a Difference Beyond the Classroom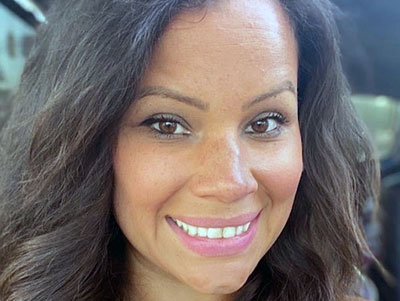 When María De Jesús G'11 was an undergraduate at Le Moyne College in Syracuse, she worked as a cashier at the Nojaim supermarket, once a staple of the city's Near Westside neighborhood.
"My interest in leadership started there," recalls De Jesús, head of the world languages ​​department at Jamesville-DeWitt High School and a student in the School of Education. Certificate of Advanced Study (CAS) in Instructional Leadership program.
Along with supermarket owner Paul Nojaim, young De Jesús helped develop FoodWorks, a summer nutrition program for the city's youth. "We teach local children about nutrition and where our food comes from," she says. "We were visiting the community garden at St. Lucy's Church and Nelson Farms. We had kids create a recipe for "Abuela Marinade," which Nelson Farms helped us make and sold at Nojaim's and the New York State Fair. We've gone from asking "What is food?" to market our own recipe!
This experience took place when De Jesús, a first-generation student from Syracuse, thought for the first time, "I can do this!" In other words, don't just become a Spanish teacher, but one day run a school and be able to encourage other teachers to imagine similar types of inclusive and enriching programs.
Courage to Lead
"I love working with students in the classroom," says De Jesús, "but I also want to work with them at a higher level. Diversity, Equity, and Inclusion (DEI) is an important component of Jamesville-DeWitt High School. I would like to have a direct impact on the students.
To achieve her vision, De Jesús returned to the School of Education, where she earned a master's degree in reading and language arts in 2011. Through the CAS program, which leads to dual certification from New York as a as a school building leader and a school district leader – De Jesús learns to create supports for struggling or marginalized students – by exploring the legal, fiscal and political contexts of education and developing skills in conflict resolution and in community building.
As part of his courses, De Jesús participates in the School of Education eduSIMS program, which simulates, with the help of trained actors, the difficult situations she might find herself in as an administrator to refine her interpersonal communication and decision-making skills. She also sits on a panel for teachers of color, hosted by Syracuse University.
Teachers Georges Theoharis and Leela Georgeboth in the Teaching and Leadership Department, encouraged De Jesús to join the group Teachers of Color. "Maria is poised to be a very effective school leader," observes George. "She has a passion for inclusion and equity, and with her courage to lead, she will make a difference for educators and students."
"Professors Theoharis and George taught me a lot about DEI issues, how to deal with them in schools and how to implement practices. Both contributed to my decision to one day lead a building notes De Jesús, "I have never felt such a safe space as in instructional leadership classes. Being able to speak my mind is huge for me."
difficult conversations
On that last point, De Jesús explains that as the daughter and wife of law enforcement officers, she sometimes struggles with the way cops are portrayed in the media, but her instructional leadership classes helped her. made it possible to tackle difficult subjects, such as police practices. "Thanks to the CAS program, I can discuss these issues with students, teachers and family. I am able to bring together different parts of my experience and facilitate conversations with all the communities I am part of.
These difficult conversations need to be put on the table, adds De Jesús. "Over the past two years, I felt I had to make a difference beyond the classroom. I have noticed mental health issues and education gaps due to the coronavirus pandemic. The classroom just isn't the same as it was three years ago; neither do the students. Becoming an administrator will help me solve these problems while including all stakeholders. »
After earning his advanced studies certificate, De Jesús says his immediate goal is to lead a building and impact diversity and equity by not only hiring more teachers of color, but also creating after-school programs for students of color.
Echoing her undergraduate experience with FoodWorks, De Jesús says that as an administrator, she would like to bring students together with after-school programs that mix educational elements with free activities. "I've noticed that students, especially students of color, often like to hang out after school with their friends. I want to create a space that allows for the fun part of socializing with friends, but also incorporates a component of tutoring type.
And for other teachers considering certification as an administrator, De Jesús simply says, "Try it!"
"You will know at some point during the program if administration is for you. But some teachers still finish the program and return to the classroom as better teachers," observes De Jesús. "So you have nothing to lose. Also, in the post-COVID school environment, we teachers have a lot to say, and we need to be the change.
Learn more online about Certificate of Advanced Studies in Instructional Leadership or contact Professor Leela George at legeorge@syr.edu or 315.443.2685.