SAU welcomes four to the Education Leadership Hall of Fame | News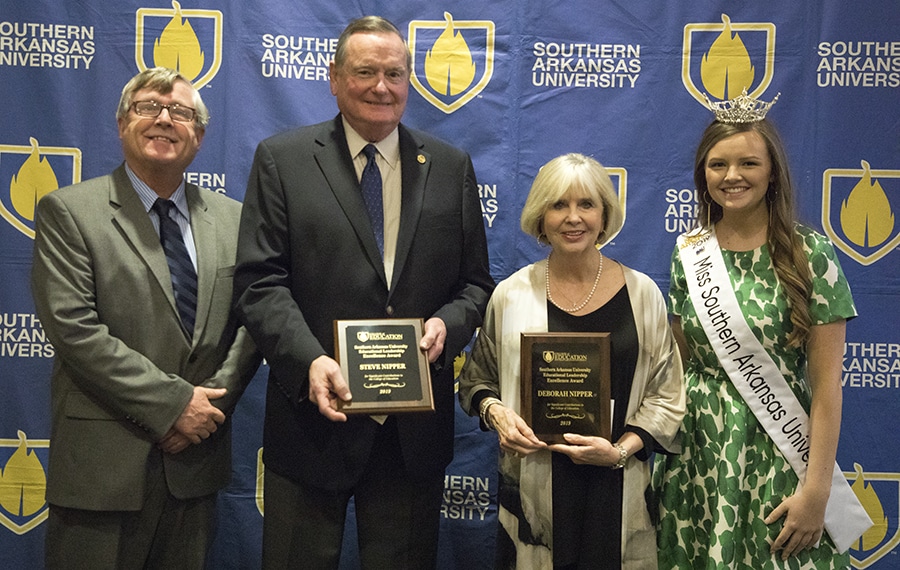 Four regional educators were inducted into Southern Arkansas University's Third Annual Educational Leadership Hall of Fame on Tuesday, March 12, 2019.
The 2019 Education Leadership Hall of Fame inductees included: Opal Anderson, Director of Federal Programs and Lafayette County Schools Curriculum; Dr. Bobby Hart, superintendent of the Hope Public School District in Hope, Arkansas; Susan Nelson, principal of Horatio Elementary School in Horatio, Arkansas, and Jay Wylie, principal of Paul Pewitt High School in Omaha, Texas.
Also at the event, the Excellence in Educational Leadership Award was presented to Steve and Deborah Nipper of Magnolia, Arkansas. This award is given to a member of the SAU faculty, staff, or community who has contributed to and supported educational leadership.
Beth Anne Rankin, Associate Director of Development at SAU, welcomed the audience and Dr. Ivy Pfeffer, Deputy Commissioner of the Arkansas Department of Education, delivered the keynote address. Dr. Connie Wilson, assistant professor and director of the educational administration and supervision program at SAU, introduced the guests. Cait Light, Miss SAU 2019, helped induct educators with Rankin and Dr. David Lanoue, provost and vice president for academic affairs.
Rankin said the event celebrates leaders, those who "turn vision into reality in our schools. If you inspire others, you are a leader.
Pfeffer told the audience that there are 71,000 public school employees in the state "who have a daily impact on our students, in schools and in our communities. That's why we need to make sure that leadership stays at the top of the list.
In receiving the Excellence in Leadership Award, Deborah Nipper, who taught for 37 years at Magnolia Schools, praised the tremendous work done by SAU's College of Education. "Thank you for making a difference in the lives of students every day."
Retired bank president and current Magnolia City Council member Steve Nipper also praised the WCC, noting that plans for a new building for the College "fit in nicely" with the growth. campus overall.
He reminded the audience that SAU is an "economic engine for Columbia County."
During her induction into the Education Leadership Hall of Fame, Anderson thanked SAU faculty and staff for providing her with the resources she needed to become a successful leader. "My education here is second to none. Our teachers wanted us to apply our skills and knowledge so that we could learn from each other.
Anderson earned his Masters in Reading, Building-Level License, Curriculum Specialist, and District-Level License from SAU. She has been involved in education for 31 years and is a board member of the Arkansas Association of School Personnel Administrators, the Arkansas Association of Curriculum Development, the Arkansas Association of Curriculum and Instruction, and the Association of Directors 2A/3A. His awards include the U.S. Army G4 Achievement Medallion, Office of the Secretary of Defense Patriotic Employer Award for Guard and Reserve Employer Support, and Educator Award. Superior Rose of Sharon Masonic Lodge No. 100.
During his induction, Hart said he was an example of a student in difficult circumstances who achieved success through his education. "You have no idea what you do as educators for children in free and reduced-fee homes," Hart said in a moving address.
Hart has served as superintendent of Hope Schools since 2012. He completed his district-level licensing program at SAU. Previously, he was a coach and teacher at Clarendon High School, Van-Cove High School and Augusta High School. At Clarendon and Augusta he was athletic director and head football coach.
Nelson thanked her faculty and staff at Horatio and praised her experience at SAU, where she earned her bachelor's and master's degrees. She leads many initiatives to enrich the lives of her students. Horatio Elementary has a three-year trend for improved student attendance and is in the final stages of School of Innovation designation. She is in her third year as Senior Director of Leadership Quest for DeQueen-Mena ESC.
Wylie, during his induction, said leadership "emphasizes the importance of relationships" in schools. Leaders "look for people who want to grow and foster that growth."
Wylie earned his bachelor's and master's degrees at SAU, where he was an active and outstanding leader. He has served as resident assistant, director of a dormitory, and president of the Student Government Association. He also received the prestigious Vice President's Award, given to the most outstanding student leader on campus.