Street Data Exposes Inequalities in How the Education System Assesses and Marginalizes Students Through Big Data Satellite View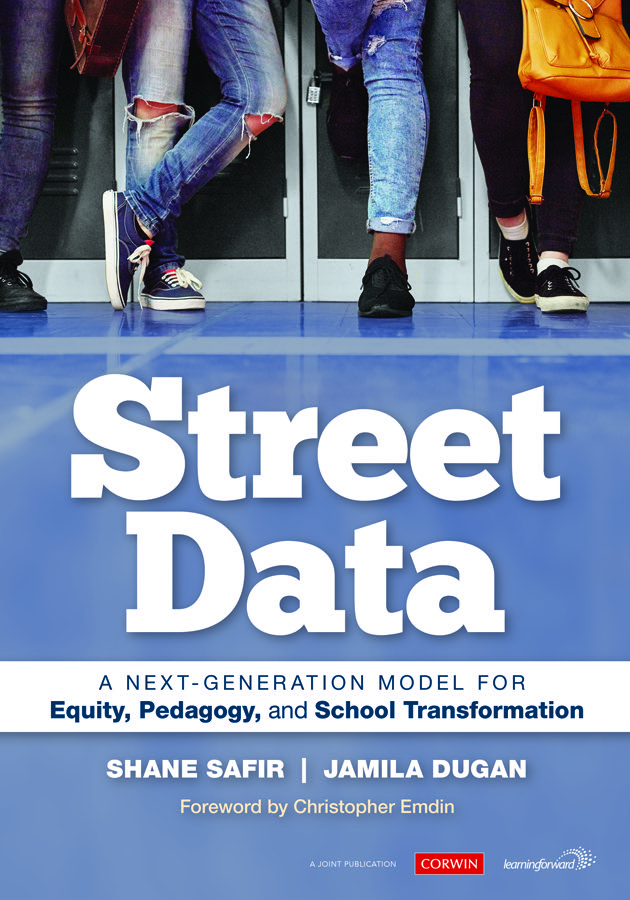 OAKLAND, CA (PRWEB)
June 09, 2021
Amid a quadruple pandemic of COVID-19, systemic racism, economic challenges, and climate change, America's education system is being called upon to embrace a massive transformation that will lead to greater access and equity for its students. It has become overwhelmingly clear that the way we assess knowledge and learning is inherently flawed and perpetuates racism and exclusion for many students. The "this is how it's always been done" mentality is proving more detrimental to education and workforce development, with marginalized students suffering.
Education professional development leaders Shane Safir and Jamila Dugan recently published their book, Street Data: A Next-Generation Model for Equity, Pedagogy, and School Transformation (Corwin Press, March 2021), which defines what street data, how to collect it, and how it complements other forms of data to reveal a humanizing path to equity for schools and districts struggling to deliver on their commitments. It offers a next-generation asset-based model of equity and deep learning that will help us transform the way we analyze, diagnose and assess all aspects of education, from student learning to education. improvement of the districts through the policies.
Street data methodologies help us move away from an outdated satellite view of assessing student achievement and instead focus on an eye-level view of the whole child that incorporates the experience human holistic and draws on expanded ways of knowing, based on Indigenous and Afrocentric peoples. cultures, as well as many others. The chapters take readers on a journey, highlighting:
Epistemology: We cannot reverse the dominant data paradigm until we understand how we know what we know and why we value what we do. This is an important step in acknowledging biases and dismantling systemic racism.

Getting out of the pitfalls and tropes of fairness: Fairness is not a destination, it is an unwavering journey. Even the most well-intentioned approaches to equity and inclusion can fail due to the 10 pitfalls and tropes this book explores, unpacks, and escalates.

Choosing the Margins: To disrupt the legacy of systemic racism, educators must center children and adults at the margins, gathering data through deep listening and engagement with those who have been least heard.

Student voice and agency: Equity work is first and foremost educational. Equity efforts begin once we redefine success and cultivate student agency by developing the areas of identity, belonging, mastery, and efficacy.
These aspects of Street Data create the basis for understanding what needs to be done and nurturing a pedagogy of voice for educators.
"I was a teacher and principal before no child left behind became a federal law. I have seen firsthand how this rapid policy change has reduced student access to deep learning, restricted our measures of success, and diminished teacher joy and agency," Safir said. "Compliance-focused pedagogy and pacing guides for educators highlight what is wrong with our students and communities. The street data paradigm strives to highlight what is right.
"When we look at current education policy and standardized assessments, they are based on very narrowly Western, Eurocentric and frankly racist data models," Dr Dugan said. "We call on all school and district leaders, educators, and policy makers to rebuild the school system from the student's perspective, not from a legacy perspective of fixing and filling the gaps. The latter approach barely considers students at the margins. It's time we uncover the root causes of inequity to transform learning.
Since its release in March 2021, Street Data has remained in the top ten of Amazon's Best Sellers in Education Administration list. For more information on Street Data, please visit http://www.shanesafir.com/street-data/.
About Shane Safir
For two decades, Shane Safir has worked at all levels of the education system, bringing passion, skill and unique solutions to the challenge of school transformation and the promise of educational opportunity for every child. She was founding co-director of the June Jordan School for Equity in San Francisco. She has provided coaching, facilitation, and professional development to hundreds of school leaders, school districts, and educational organizations across the United States and Canada. She is a frequent contributor to Edutopia and ASCD's educational leadership. She is the author of her first book, The Listening Leader: Creating the Conditions for Equitable School Transformation (Jossey-Bass) in 2017, which uses powerful stories and practical tools to show how education leaders can leverage the vital but often overlooked skill of listening to transform their schools. Shane holds a bachelor's degree in history from Brown University, a master's degree in education from Stanford University, and a degree in administrative services from California State University East Bay.
About Jamila Dugan
Dr. Jamila Dugan is a leadership coach, learning facilitator and researcher. She began her career as a teacher in Washington DC, successfully helping her school implement an International Baccalaureate program. After being nominated for Teacher of the Year, she later served as a coach for new teachers and director of learning and leadership development for teachers in Oakland, California. As a school administrator, Jamila championed equity-focused student services, parent empowerment, and the development of the first Mandarin immersion college in Oakland, California. She is currently an urban leadership development coach. She holds a bachelor's degree in psychology from Fresno State University, a master's degree in early childhood education from George Mason University, and a doctorate in education leadership for equity from University of California at Berkeley.
About Corwin

Corwin, a SAGE publishing company, is the premier provider of professional learning products and services that equip educators with the resources to improve teaching and learning. Corwin offers print and eBooks, digital products, and on-site consulting services for all types of educators at all stages of their careers. Corwin resources are written by experts on the topics most relevant to education; formatted for how-to, practical advice; research-based and peer-reviewed for quality; and designed for professional learning. For more information, visit http://www.corwin.com.
###
Share the article on social networks or by e-mail: