UIndy Educational Leadership Program Now Nationally Recognized – UIndy 360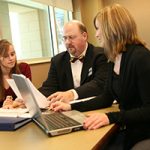 The iLEAD program at the University of Indianapolis School of Education recently received national recognition through its specialized professional accreditation body, the Educational Leadership Constituent Council (ELCC).
iLEAD is a School of Education graduate program offering a Master of Arts in Educational Leadership, leading to a Principal's License. The goal is to prepare transformative educational leaders with 21st skills of the century.
National recognition is important for graduates like Barton Lewis, who is now principal of Sunny Heights Elementary School in Warren Township.
"National accreditation means that the degree I received is a validation of the effort and hard work put into the program. The real value of the iLEAD program is evident in the good work done by the graduates. National accreditation supports the strength and legitimacy of the program, "said Lewis.
"Obtaining national recognition is a 'seal of approval' that our main preparation program is excellent in content and pedagogy. In some states, ministries of education are involved in curriculum reviews. However, that is not happening in the state of Indiana right now, "said Lynn Wheeler, assistant professor of teacher education.
In order to receive ELCC recognition, Indy's iLEAD program went through an extensive quality assurance process which was managed by external reviewers. The program was evaluated for content and performance as well as data on student grades. Student scores on the state licensing exam are on average nearly 100 percent.
National recognition adds value to an already strong program. Future principals participating in iLEAD are trained by current superintendents and principals "who bring authentic and cutting-edge experiences to their classes. Our two full-time teachers are former principals, "said Wheeler.

"The iLEAD program has provided an excellent basis for my development as a leader. The program has done a great job bringing teachers with real experience and knowledge to teach beyond the program, "said Lewis.
Principals, vice-principals and district leaders provide mentorship to iLEAD students during leadership projects in their schools or districts. External evaluators who already work as school leaders review these projects at the end of each semester.
Students participate in face-to-face and online sessions, an aspect of the program that has proven to be popular.
"The hybrid education delivery system has been highly regarded by our students and their mentors," said Wheeler.
"The iLEAD program keeps graduates engaged by bringing them back to share their experiences and knowledge with the next wave of future administrators. I like going back to the University of Indianapolis to assess cohort projects and participate in roundtables. Through these experiences, I have developed a whole network of educational professionals who continue to influence my work as a school leader, "said Lewis.
Learn more about the program here.